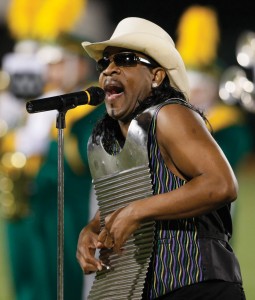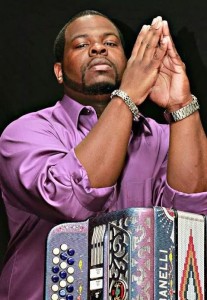 Save the date! On Thursday, April 2nd there's going to be another FREE Zydeco Crossroads concert event at World Cafe Live in Philadelphia with Rockin' Dopsie Jr and The Zydeco Twisters and Marcus Ardoin and Da Zydeco Legendz. Sign up info coming soon.
You don't want to miss this event as our our last show with Koray Broussard and the Zydeco Unit and Leon Chavis and the Zydeco Flames was packed to the rafters with lots of dances and some great live zydeco music. In case you missed it, you can listen to the set by Leon Chavis here.
From Rockin' Dopsie's bio:
When Rockin' Dopsie, Sr. passed away in 1993, the Dopsie family vowed to keep his memory alive, mainly in the incarnation of this band, Rockin' Dopsie, Jr. & The Zydeco Twisters. In doing so, it's become its own phenomenon. No other zydeco band has ever been fronted by a washboard player. It's usually the accordionist, and it's also a safe bet that there's never been such a flamboyant personality as Rockin' Dopsie, Jr., who can turn a house upside down on a moment's notice.

Dopsie, Jr. presents zydeco with the conviction and authenticity of its rich heritage. His earliest musical memories are of his father's accordion playing. Dopsie, Jr. was given a basic accordion by his father at the age of nine. He taught himself to play, as had his father, by listening to and playing along with the radio.

"I really loved that sound, but I needed more mobility so I could jump up and down and do my splits, you know. I must've inherited my love for the blues from my father 'cause I still listen to BB King, Jimmy Reed, the Vaughn Brothers and Bobby Bland, but when I was growing up, the Jackson Five, Sly Stone and James Brown were really happening." Both genres are evident in Dopsie, Jr.'s performances.