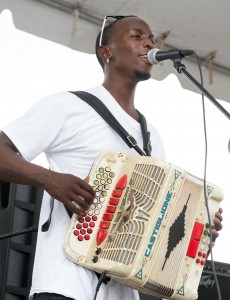 Join us for one of two FREE ZYDECO CROSSROADS shows featuring
Leon Chavis & The Zydeco Flames and Koray Broussard and the Zydeco Unit.
Both bands will play at each show.
When: Friday, February 27, 2015
Where: World Cafe Live 3025 Walnut Street Philadelphia PA 19104
TWO SHOWS! Select ONE and RSVP NOW
EARLY SHOW: Doors: 6:00pm Showtime: 7:00 – 9:30pm | All Ages Show
SOLD OUT
LATE SHOW: Doors: 10:00pm Showtime: 10:30 – Midnight | 18+ Only
Reserve for the LATE SHOW here.